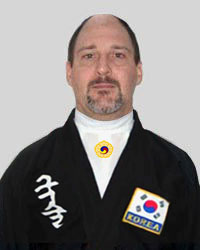 Why not use our handy
Contact Form
As a martial arts system, Kuk-Sool covers the full range of traditional Asian techniques, especially in regards to body conditioning, mental development, self-defense, and combat fighting arts, including traditional weapons training.
Kuk-Sool is not merely concerned with the physical methods of attack and defense, but also with less obvious martial art elements such as the study of healing techniques, the development of internal power, and achieving longevity while maintaining good he=alth and peak physical fitness. Training in Kuk-Sool can also help to instill confidence, self-discipline, and other psychological strengths which are usually associated with the character of a martial artist.
As noted, Kuk-Sool is not limited to any one style of martial arts but is a well organized, systematic study encompassing the entire martial arts spectrum, with particular emphasis placed on ancient traditions, including something known as 'martial arts etiquette.' Essentially, Kuk-Sool could be classified as a conglomerate or comprehensive system, and because many styles of martial arts are included within its scope, you will find that Kuk-Sool is perfect for anyone of any age or gender, especially for those with different goals, needs, or any physical limitations.
I'm glad that you came to visit this website and now invite you to take a brief moment and explore all that Kuk-Sool of Costa Rica has to offer.
Respectfully,
Master Instructor — Dickson Kunz
7th Degree Black Belt — 관장님

Current Temperature in San José: